STEALTH RECON SCOUT
We can now offer you the DTA SRS Rifles, Conversions and upgrades,
Please read below for pricing and so on.
The rifles are modular so you need to choose your options and place an order.
ALL RIFLES AND PARTS ARE BY ORDER ONLY
Llike all overseas import these take some time and as such a 50% non refundable deposit will be taken on all orders.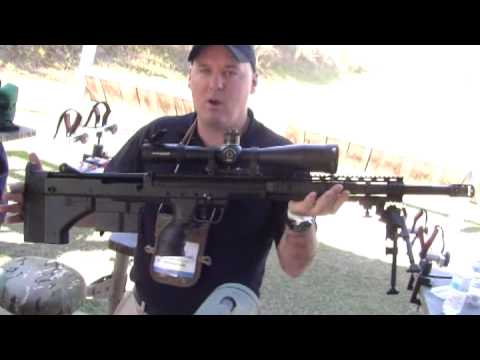 The SRS achieves superb accuracy in all calibers because it's built around core accuracy components:
1. Match grade (free-floated) barrels, chambers, and crowns
2. High quality match trigger
3. Solid, repeating return-to-zero barrel mounting system (the receiver securely clamps around the first six inches of barrel)
Quick Caliber Conversion
The SRS is quickly convertible between the following calibers: 308 WIN, 300 WIN MAG, 338 LM, and 243 WIN. The calibter conversion and return to zero is simple and takes less than 60 seconds.
Benefits:
1. Operators can change rifle length, penetration, and distance capabilities.
2. Snipers can shoot various ammo calibers and types depending on METT-T.
3. Snipers can progressively train on more powerful ammo.
4. Reduced training costs (train and practice with .308 WIN)
5. Reduced system down-times (the operator can change his own barrels).
Compact
The SRS is the shortest purpose-built sniper weapon in the world. The telescoping bolt and bullpup configuration make it almost a foot shorter than conventional Mauser-style turnbolt sniper rifles. The compact design shifts weight and center-of-gravity rearward, creating a perfectly balanced and relatively short rifle.
Rugged
The SRS was designed to operate under the harshest conditions and abuse. It is built of high-impact polymers; aircraft grade aluminum (ANSI 7075-T6); ultra high-strength steels; and some of the most durable coatings known to man. The monolithic receiver serves as a full length mounting chassis, eliminating the need for any sort of receiver-to-stock bedding interface. Ergonomic stock panels attach directly to the receiver.
The SRS maintains its accuracy and reliability in virtually any environment, including subzero arctic temperatures, extreme desert heat and dust, and wet jungle environments.
RIFLE PRICES
the basic gun and chasis -does not include scopes mounts ring bipods etc
DTA SRS 243WIN 26 inch Barrel $5750
DTA SRS 308WIN 22 inch Barrel $5750
DTA SRS 308WIN 26 inch Barrel $5750
DTA SRS 300WIN MAG 26 inch Barrel $5990
DTA SRS 338LAPUA 26 inch Barrel includes Muzzle Break $6190
You can choose from a couple of colours Black , Tan , OD Green
You can also order all the metal bits to be coated the same colour from the factory as part of the order for and additional $250
DTA SRS CONVERSION KIT
This is for a Barrel a bolt and 1 Magazine
243win 26 inch Barrel $1890
308win 22 inch Barrel $1890
308 win 26 inch Barrel $1890
300 Win Mag 26 inch Barrel $1990
338 Lapua 26 inch Barrel – include Muzzle Break $2290
DTA SRS MONO POD (must order with rifle)
this is because the side panels require modification to fit
$525
DTA SRS SPARE MAGAZINES
all calibres $150
DTA MUZZLE BREAK
$330

DTA CASES
DTA Soft Case Shooting Mat $500
DTA Custom Pelican Hard Case $550
choose the colour you want – to match your rifle !!
DTA SCOPE MOUNT ACCESSORIES
34mm Tapered Scope Ring Mount System $300
you can choose 20 , 30 , 40 MOA Tapers
0mm Ring Reducers for Ring Mount System $59
DTA BORE GUIDE
$65
DTA FIXED BIPOD ADAPTER
$65
DTA OPERATOR TOOL KIT – includes preset Torque Wrench and Multitool
$245
Dta Operators Maint Kit – below- available on request only but was quite expensive !!
for more info from the makers go to the DTA Website